On April 10th, the WNBA Draft will take place at Nike's New York Headquarters. The first round will be live on ESPN2 starting at 7 p.m. ET, with the second and third rounds moving to ESPNU at 8 p.m. The draft will also be available to stream on the ESPN app. Each round consists of 12 picks. The league requires draft entrants to be at least 22 years old during the year in which the draft takes place, and that they either have no remaining college eligibility or renounce any future college eligibility.
This year's draft has a little more drama associated with it than usual. Earlier this year, Dallas Wings starting center Elizabeth Cambage announced her desire to be traded from the team, threatening to sit out or even return to Australia for the foreseeable future. This came after the Wings parted ways with head coach Fred Williams, who Cambage was very close with. Cambage put up MVP-level numbers last year, averaging 23.0 points, 9.7 rebounds, and 2.3 assists in the regular season. She also set the WNBA single-game scoring record with 53 points.
Exactly two weeks after Cambage's announcement, Minnesota Lynx guard Maya Moore announced that she would be taking the 2019 season off to focus on her family and faith. Moore is one of the best and most popular players in the league. She averaged 18.0 points, 5.1 rebounds, 2.6 assists, and 1.7 steals during the 2018 season. Her list of accolades is long and includes Rookie of the Year, Finals MVP, regular season MVP, and four championships. It is currently unknown if she will return after the 2019 season.
With those big changes in mind, here's how I predict each team will draft in the first round:
Asterisk (*) designates draft-eligible players that haven't declared for the Draft.
1. Las Vegas Aces: Teaira McCowan, C, Mississippi State
Season stats: 18.4 points, 13.5 rebounds, 0.8 assists, 0.9 steals, 2.4 blocks
A dominant force in the SEC, McCowan was pegged by WNBA coaches and GMs as the number one back in January. Averaging 18.4 points and 13.5 rebounds per game, it's easy to see why McCowan is an appealing prospect. Combine her absurd numbers with elite efficiency (66.2 FG% last season), and she looks like a perfect fit next to A'ja Wilson. McCowan's elite defense will also be a big help for the Aces, who ranked 9th in defensive rating last season. For Bill Laimbeer and the Aces, McCowan also presents flexibility no other prospect does: the ability to be their franchise center or a centerpiece in a potential trade for Elizabeth Cambage.
Other potential picks: Asia Durr, Kalani Brown
2. New York Liberty: Asia Durr, G, Louisville
Season stats: 21.2 points, 3.8 rebounds, 3.3 assists, 1.5 steals, 0.4 blocks
Asia Durr can flat out score, and I would argue she is the best scorer available in this draft. Her elite scoring ability has many believing she can make one of the biggest immediate impacts in the WNBA. Durr is extremely consistent, scoring double digits in all but one game this season, and had 44/34/81 shooting percentages. For a team in need of one more dynamic piece, particularly at the guard position, Durr and the Liberty would be a match made in heaven. The Liberty were 11th in offensive efficiency last season, and the scoring ability Durr presents would give the team a significant boost. The trio of her, Kia Nurse, and Tina Charles would be very formidable, especially for a team full of solid role players to fill the other slots.
Other potential picks: Arike Ogunbowale, Katie Lou Samuelson
3. Indiana Fever: Kalani Brown, C, Baylor
Season stats: 15.6 points, 8.1 rebounds, 1.5 assists, 0.3 steals, 1.7 blocks
The Indiana Fever have a ton of issues. Many of them stem from the lack of an inside presence, and Kalani Brown is a perfect solution. The Fever were the league's worst team in a number of statistical categories: field goal percentage, rebounding percentage, points per game, assists per game, and net rating. Brown shot 61% from the field, averaged 8 rebounds, and 15.6 points with about two blocks. At 6'8″, she is four inches taller than anyone on the Fever. Her inside presence would add dimensions to a team that desperately needs it on both ends of the court.
Other potential picks: Asia Durr, Napheesa Collier
4. Chicago Sky: Napheesa Collier, F, Connecticut
Season stats: 21.0 points, 10.8 rebounds, 3.6 assists, 1.5 steals, 1.6 blocks
Napheesa Collier is one of the best all-around players in this draft. A Swiss Army knife on the court, Collier has a high basketball IQ, can score from anywhere, and is an elite defender across every position. Per Synergy, she is 93rd out of 1225 in the country in defensive points per possession, minimum 150 possessions. The Sky don't have many issues scoring, but the defense was an issue last season. Collier should complement the other players well, and the trio of Collier/Diamond DeShields/Gabby Williams on the wings should be formidable defensively.
Other potential picks: Katie Lou Samuelson, Alanna Smith
5. Dallas Wings: Arike Ogunbowale, G, Notre Dame
Season stats: 21.1 points, 4.9 rebounds, 3.9 assists, 1.9 steals, 0.1 blocks
Arike Ogunbowale became a household name after hitting two clutch shots in last year's NCAA tournament. Her confidence is always through the roof, and that makes her appealing to many WNBA teams. With Skylar Diggins out due to pregnancy, and Cambage's status unknown, Ogunbowale could play an immediate, big role for the Wings. She's only gotten better over her time at Notre Dame, particularly as a playmaker. Combine that with her scoring ability, and she could give Dallas a dual-threat to partially replace what they've lost.
Other potential picks: Jessica Shepard, Katie Lou Samuelson
6. Minnesota Lynx: Jackie Young, G, Notre Dame*
Season stats: 15.0 points, 7.4 rebounds, 5.0 assists, 1.3 steals, 0.4 blocks
Jackie Young, if she declares, has great potential in the league. She contributes across the board, and has a physical style of play that should translate very well. The Lynx lost both of their starting guards this offseason, and could use someone with her broad skill-set. Young is an efficient scorer, and takes care of the ball. She was 25th in the nation in assist-to-turnover ratio, while shooting 54/45/78. She doesn't shoot many threes, but has shown the ability to score inside, which could be deadly paired with Sylvia Fowles setting screens for her.
Other potential picks: Katie Lou Samuelson, Alanna Smith
7. Los Angeles Sparks: Katie Lou Samuelson, F, Connecticut
Season stats: 18.6 points, 6.6 rebounds, 3.9 assists, 1.3 steals, 0.6 blocks
The second UConn forward projected in the first round, Samuelson has been a force for four years now. A gifted scorer from anywhere on the court, she would bring the Sparks another uniquely skilled big to go along side Candace Parker and Nneka Ogwumike. Her rebounding ability would also be welcomed, as the Sparks ranked last in rebounds per game last season. Samuelson is talented enough to higher, but has had a few injuries lately that may cause her to slip. If she falls to LA, she could be a part of another dynastic run in the pros, and would have an opportunity to play alongside her sister, Karlie.
Other potential picks: Kristine Anigwe, Alanna Smith
8. Phoenix Mercury: Alanna Smith, F, Stanford
Season stats: 19.4 points, 8.6 rebounds, 1.9 assists, 1.1 steals, 2.0 blocks
Sneakily elite, Alanna Smith is considered by some to still be an under the radar pick. The forward has displayed an excellent inside-out game, which could be useful for the Mercury. This season, Smith has shown a silky-smooth shooting touch, posting percentages of 52/40/73. She could fit Phoenix's three-point heavy offense, while improving their rebounding, which was third-lowest in the league. Smith provides the spacing necessary to coexist alongside Brittany Griner, while also possessing the ability to hold down the paint when she lines up at the center spot.
Other potential picks: Ezi Magbegor, Brianna Turner
9. Connecticut Sun: Ezi Magbegor, C/F, Australia*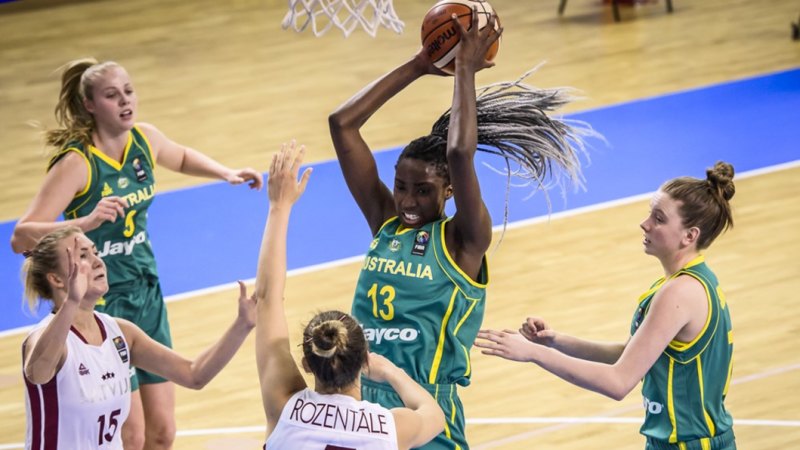 Season stats (Australia WNBL):8.7 points, 4.2 rebounds, 0.7 assists, 5 total steals, 16 total blocks
A very unique prospect, Ezi Magbegor has gotten the attention of multiple teams in the WNBA. Her stats may not look as great as some of the other players available, but those only tell part of the story. At only 19 years old, Magbegor has shown great ability in Australia, playing for both the Melbourne Boomers and the Australian National Team. Teams are attracted to her length, athleticism, and elite defensive capabilities. Some have compared her to Sylvia Fowles. Her age is appealing as well, as a team could develop her earlier than other draft picks. The Sun already have great bigs in place, but they could be heading for salary issues soon. Having Magbegor on a cheap deal gives them a potentially elite security blanket.
Other potential picks: Megan Gustafson, Kristine Anigwe
10. Washington Mystics: Jessica Shepard, C, Notre Dame
Season stats: 16.6 points, 10 rebounds, 3.2 assists, 1.4 steals, 0.4 blocks
Jessica Shepard provided the Irish with an elite inside presence all season. After transferring from Nebraska two seasons ago, she's improved her conditioning, rebounding, and efficiency. The Mystics could use her skill set in multiple ways. The team averaged the second-fewest rebounds per game, with only two players averaging over four. Add her offensive repertoire to this team, and they have a lethal inside-out game, especially if they play big with Shepard inside and Elena Delle Donne playing guard. Some teams have voiced concerns with her athleticism and conditioning, but the upside should be considered worth the risk.
Other potential picks: Brianna Turner, Sophie Cunningham
11. Atlanta Dream: Kitija Laska, G, South Florida
Season stats (2017-18): 21.1 points, 3.4 rebounds, 1.3 assists, 0.7 steals, 0.4 blocks
The Atlanta Dream were one game away from a Finals appearance last season. They don't have many holes to fill. Realistically, the best way to earn minutes in Atlanta will be to shoot, and Laska does that at an elite level. It's tough to gauge the interest in her since she missed all but three games this season due to a torn ACL. She's draft eligible, but may decide to redshirt and return for another season. When healthy, she's one of the best shooters available, shooting 40% from three over her college career. Her efficiency and health are big question marks, but for a team that ranked last in three-point percentage, she may be worth the risk.
Other potential picks: Kristine Anigwe, Anriel Howard
12. Seattle Storm: Briana Turner, F, Notre Dame
Season stats: 14.5 points, 7.6 rebounds, 1.6 assists, 1.2 steals, 2.7 blocks
After missing all of the 2017-18 season, Brianna Turner returned without missing a beat to help Notre Dame to the Final Four. Contributing across the board, she presents a versatile skill set than any team could use. According to Her Hoops Stats, her 9.2 percent block rate is 49th among all Division I players. The reigning champs, the Storm have a group of great forwards for Turner to learn from. There are questions as to where she will fit on the court. She has the height of a center but doesn't quite have the mass to play there full time. She also never attempts any three pointers, which could be a concern going forward. Regardless of the situation, though, she will find a way to contribute.
Other potential picks: Kristine Anigwe, Megan Gustafson